La Petite Torpille Esthétique, part 1
Installation-action, La Compagnie centre d'art, Marseille, 2019




Five banana peels are laying on the ground equidistantly. They are identical, provided with four branches that made them looking like starfishes. A cardboard box covered with a spider web and supplied with a pin linked to helium balloons is positioned at the center.

A costumed person uses glitter to reveal a magic pentagram made of straight lines drawn from each banana peel branches.

Once the rune is unveiled, the pin of the package is pulled out and the spider web flies away. We hear the sound of a small engine inflating a giant worm, pushing the top of the package to get out.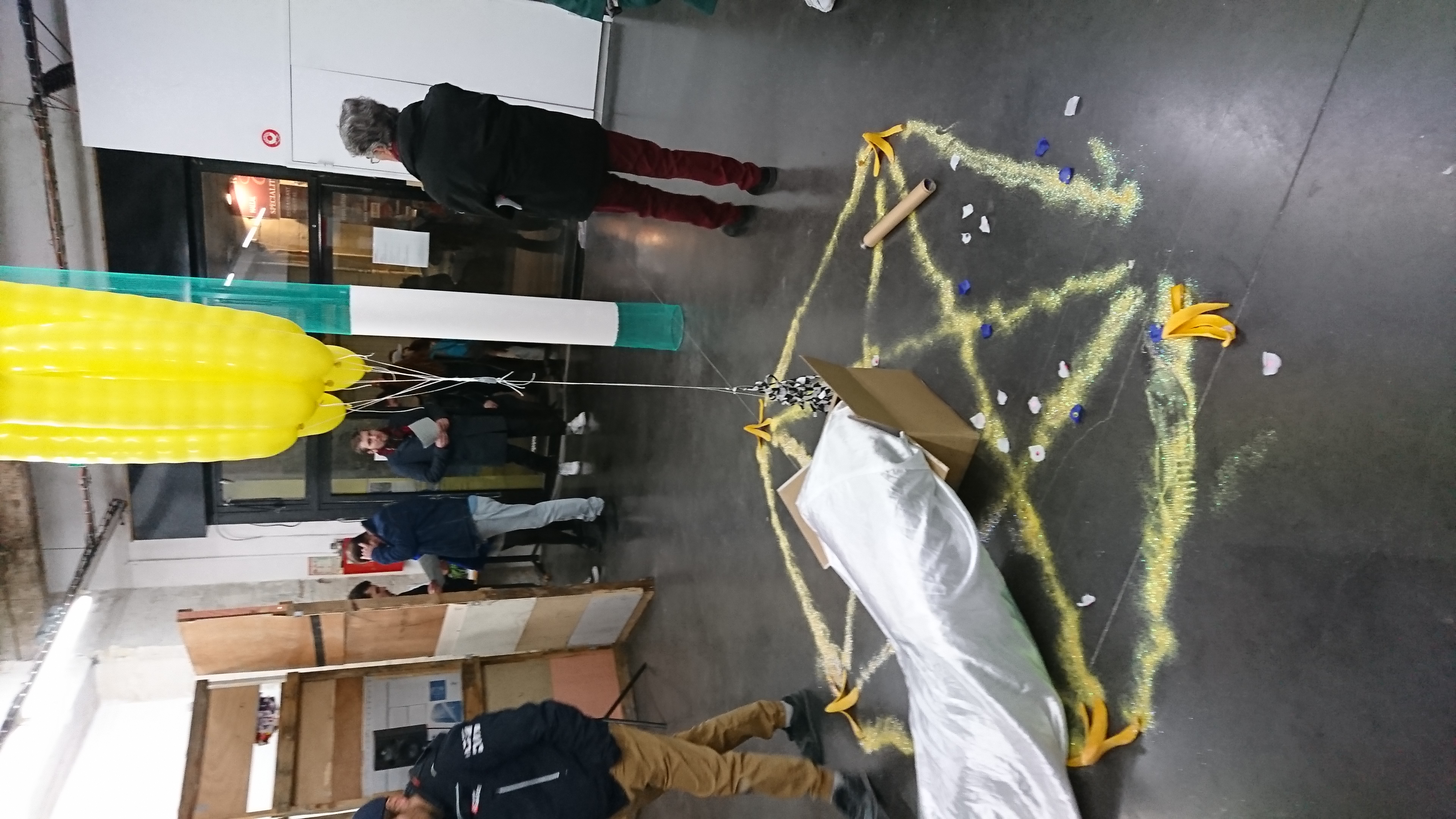 "Bref, face au poncif de la farce ou de l'image d'Epinal, les normes esthétiques sautent."
Peter Szendy, Tubes, la philosophie dans le juke-box, p.38


La Petite Torpille Esthétique (The Little Aesthetical Torpedo) is a series of performances and installations settled up as chain-reactions, involving jokes and hoaxes mechanisms and carrying references and gestures from popular magic shows.

The performer acts as a conductor to initiate a sequence of events led by the installation where every object is producing an act. A non-hierarchic and experimental storytelling is created by following all these objects-acts and that's how the noisy, colourful and caricatural corpus is made.

Each happening lasts until exhaustion of every device. The installation is growing bigger every time its displayed because every object-act is reused and enhanced.

La Petite Torpille Esthétique comes and goes between the stage and the studio, each object calling out for a new act and conversely, to set-up this D.I.Y flavoured silly entity.